How Much Is My Life Insurance Policy Worth?
Harbor Life Helps Seniors Get the Most out OF Their Financial Assets
How Much Is My Life Insurance Policy Worth?
Harbor Life Helps Seniors Get the Most out of Their Financial Assets
Life Settlements Featured On
What Can A Life Settlement Do For You?
Retire when you choose with the security of knowing you will be able to enjoy your retirement to the fullest. Many seniors are unaware that their life insurance policy is a liquid asset. Imagine the adventures and activities your life settlement will allow you to make a reality. Your life settlement will put more money in your retirement fund than the surrender value on your policy.​ 
The last thing you need to worry about is being able to cover medical expenses or even worse not being able to receive the health care you need because of financial reasons. Medical appointments and procedures can become costly even with the best health care coverage. A life settlement can ease your financial burden and allow you to focus on more important things.  
A life settlement provides peace of mind in knowing that no matter what unforeseen event arises, you and your family will have the financial security to take care of any situation.
Selling your life insurance policy can help you pay for your immediate and long-term needs.
 You have paid your life insurance bills for years, now you can sell your policy and retire without having to worry about finances.
Imagine opening your mailbox and never receiving a  life insurance premium bill ever again. In addition to the cash settlement you would receive for your policy, you will also save on your monthly expenses.  Put a stop to paying over-priced, steadily increasing premiums.  Selling your life insurance policy will provide a lump sum of money in your bank account and stop monthly insurance bills. 
Seniors & Retirees Ask Us, "Can I Sell My Life Insurance Policy?"
She got $220,000 for her $600,000 policy.
Margie realized her life insurance premium was getting ready to triple in price. Her children were grown and financially independent. She decided it was the perfect time for her to sell her policy. She called a few life settlement companies but wasn't comfortable with any of them. Then she saw an article on Harbor Life Settlements and gave them a call. The agent listened to all of Margie's concerns and was happy to answer all of her questions. The professional agents at Harbor Life were able to quickly get her the most money for life insurance policy. Margie is now enjoying retirement with peace of mind and doesn't miss her monthly life insurance bill.
Selling a life insurance policy can pay seniors an average of 4 to 11 times more than what they would receive from the insurer for a surrendered policy.​
– US Government Accountability Office (2010) and the London Business School (2013).
How Much is My Policy Worth?
About Harbor Life Settlements
No Cost or Obligation to Receive an Offer. Harbor Life is dedicated to helping customers receive the best offer for their life insurance settlement. If your policy is eligible we will help you receive up to 60% of the death benefit value. We keep our clients informed every step of the way and make it easy to sell your life insurance policy. In less than 5 minutes of your time, we will be able to start working on getting you a cash estimate on the value of your policy. We will find the right buyer with the highest offer and then handle all of the paperwork to make things easy for you. 
We Work With Only Professional Licensed Buyers. This allows the sale process to be seamless and fast. It can take a really long time to sell your life insurance policy, but not when you work with Habor Life Settlements. Instead of the typical 6-9 months, it can take to sell your life insurance policy with other companies, Harbor Life is able to buy out life insurance policies for cash in as little as a few weeks. We value our potential client's time and also believe in providing all of the information and available options for their life settlement and let them make the decision that is right for them.  
Our Entire Company is Dedicated to Working with You.  We understand selling your life insurance policy is a big decision and are here to answer all of your questions. Unfortunately, 80% of people let their insurance policies lapse without realizing they could have sold their policy in a life settlement and received a larger payout. We educate consumers so they know that selling a life insurance policy in a  settlement will provide more money than surrendering a policy. We know the importance of making the right decision and we are here to listen and explain the process every step of the way.
Your Privacy and Satisfaction Are Our Top Priority. There is No Obligation to Accept Any Offer We Present to You.  We have helped hundreds of thousands of clients successfully sell their policies. Our satisfied clients have seen how a life settlement changed their lives. It is the greatest compliment to Harbor Life Settlements to receive referrals from our clients and to be able to provide their friends and family with the most value for their life insurance policies.  Harbor Life Settlements takes pride in providing an exceptional client experience and is a  trusted leader in the industry. 
Steps To Selling Your Policy
Looking For More Information on Life Settlements?
Below you will find frequently asked questions on life settlements. If you have additional questions or prefer to speak with one of our knowledgeable representatives, please call  (800) 694-0006.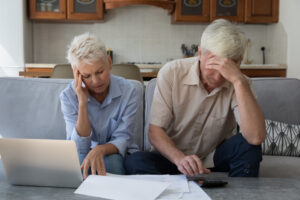 A 2023 poll from Allianz Life found that 61% of Americans are more afraid of running out of money than death, and 40% of respondents admitted their
Read More »